[ad_1]
A wedding reception held in Maine in early August led to an outbreak of the novel coronavirus that has infected more than 50 people and resulted in one death, according to health officials in the northeastern state.
The Maine Centers for Disease Control and Prevention announced that it had launched an investigation into the August 7 event last Monday, after 24 individuals who had attended the wedding reception at the Big Moose Inn in Millinocket tested positive for COVID-19. On Saturday, health officials said that 53 infections have now been linked to the event and one person has died, Main's The Portland Press Herald reported.
"Social gatherings such as weddings and receptions pose an elevated risk for virus transmission," Maine's CDC said in a press released emailed to Newsweek. "The possibility of COVID-19 transmission increases as the number of attendees increases, even when some attendees are indoors and others are outdoors. This is because outdoor attendees may reasonably be expected to come indoors and interact with others, increasing the possibility of COVID-19 transmission."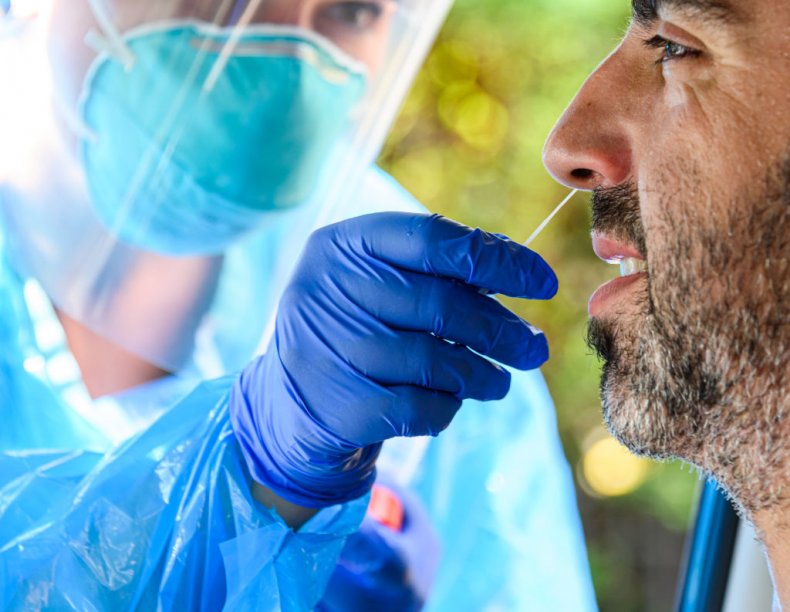 Get your unlimited Newsweek trial >
The state health agency said that "cases have been identified in individuals ranging from 4 to 98 years old. The median age of cases is 41 years, with 23 percent of cases being younger than 18 years and 28 percent being older than 60 years of age."
Newsweek reached out to Big Moose Inn for comment, but it did not receive a response by the time of publication.
The woman who died as a result of the outbreak did not attend the wedding reception, but was directly infected by one of the attendees, according to health officials. Of those known to be infected from the event, 23 did not attend but were infected via those who had attended. About 65 people attended the reception in total.
Get your unlimited Newsweek trial >
"Those who attend social gatherings should follow physical distancing guidelines including wearing cloth face coverings when not eating and maintaining a distance of at least 6 feet between individuals and 6 feet between household groups as much as possible," the Maine CDC said in a press release announcing the investigation last week.
Big Moose Inn received an "imminent health hazard citation" due to the outbreak from the event, New England's NBC affiliate NECN reported. Although the citation did not include a fine at this point, it could lead to a fine depending on how the investigation proceeds.
"They did intend, agree and signal they would comply with these issues and the issues that were cited going forward," Nirav Shah, the director of Maine's CDC said, according to NECN. "If there is further evidence of non-compliance, that's when financial penalties come in."
In the press release emailed to Newsweek, the state agency explained that indoor events present a greater risk of COVID-19 transmission. It noted that a higher number of participants also increases the likelihood of transmission.
"Individuals who do not feel well or who believe they might have come in contact with the virus should not attend social gatherings of any size. Attendees should wear face coverings at all times other than when eating or drinking," it said.
Since the start of the novel coronavirus pandemic, Maine has seen a total of 4,317 cases and 130 deaths, according to The New York Times' tracker. The state's current seven-day average of new cases stands at 25 per day.
Source link