[ad_1]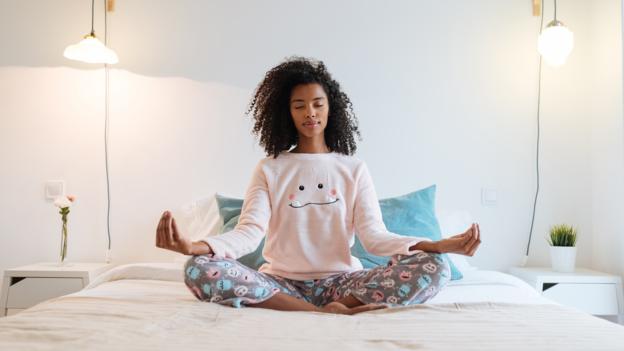 This article is part of Confined Grind, our crowdsourced guide to maintaining a balanced, healthy life while working and living at home amid Covid-19. Join the conversation on the BBC News LinkedIn page.
As people around the world self-isolate because of Covid-19, factors like anxiety, a lack of social interaction or outdoor time and economic stressors can lead to mental health challenges. While everyone's circumstances vary and people are experiencing this global pandemic in different ways, many have found relief using similar approaches. Here's what our readers shared about how they're holding up and what has helped them stay positive.
Mindfulness
Mindfulness comes in many forms: meditation, self-affirmations, breathing techniques and writing in a diary, to name a few. Many readers have found these practices helpful in shaping a more positive mindset. One of the most popular suggestions was to practise gratitude, focusing on the small, pleasant moments each day brings, as well as larger things like family and community.
In the UK, Amanda Owen-Meehan suggests writing down three things you are grateful for every day, however small they might seem. "Also, try to write down worries and stresses as they come to mind during the day. Revisit the list at the end of the day and for those worries that are still hanging around, ask yourself 'Can I fix this?' If the answer is no, try to let it go. If yes, start working on an action plan to fix it."
Kim Knight, from New Zealand, suggests another popular mindfulness approach: practise focusing on the present, rather than the past or future. "One of the most important things for dispelling fear is to come back to the present moment. We must learn to control our thoughts, and in particular stop the habit of worry (mentally rehearsing what we don't want to happen) and 'worst-case-scenario-thinking' which just leads to fear, stress [and] despair."
Arloa Ten Kley, from the US state of Iowa, suggests looking at what you can actually control, and focusing on the positives in life while not ignoring the negatives. "I can choose to take care of myself physically, emotionally, spiritually, as well as support those around me. I can recognise the facts of what is going on around me without joining 'the sky is falling' mentality."
Source link