[ad_1]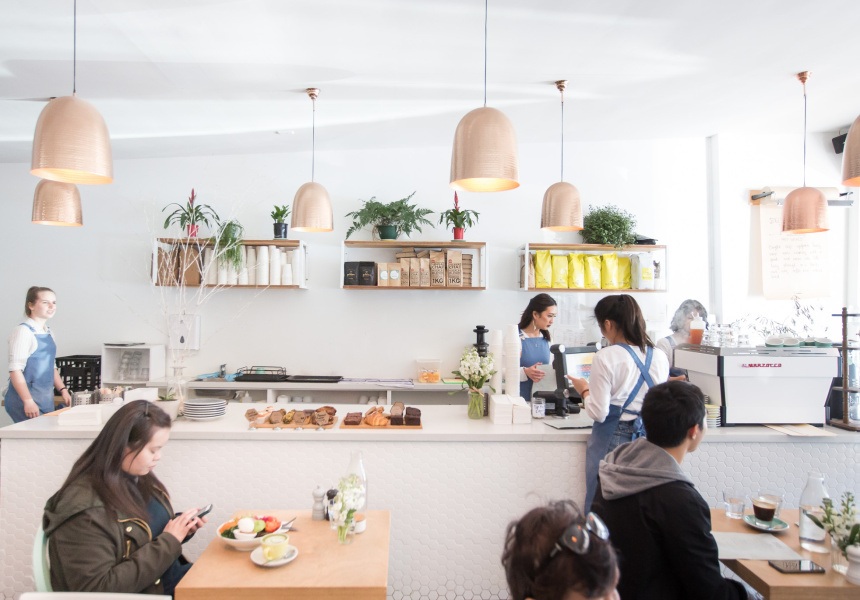 Maliq Deane thinks staying healthy is the key to happiness. And as the owner of
Trei Cafe, a Glen Waverly outpost dedicated to healthy eating and nutritious choices, Deane sees it as a responsibility he extends to his customers.
While nutritious food and drink are essential for keeping healthy, a positive mindset (and lots of movement) are equally important. We asked Deane for his tips to staying on top of your health as we head into spring.
You don't have to sacrifice your favourite foods

"People think that being healthy requires a sacrifice," says Deane. "But eating healthy doesn't necessarily mean that." Yes, you can still enjoy pizza – it just needs a bit of creativity.
At Trei, the team serves a plant-based brunch pizza with sweet potato and oats incorporated into the base. "Sweet potato is a very healthy source of whole-food carbohydrates," says Deane. Topped with napoli sauce, walnut pesto, spinach, roast pumpkin, avocado and raw vegan parmesan, it's fresh food masquerading as fast food.
Keep it spicy

Deane says you can add flavour by employing natural herbs and spices. One of his go-to meals is the red lentil coconut curry at Trei, spiced generously with bay leaves, cinnamon, fresh ginger, turmeric, coriander and curry powder. It's got red lentils, tomato and spinach, and comes served with black rice and quinoa.
"Even with salads, if you use the right seasoning and dressings they can be a very tasty option," he says. "[Once] people learn that eating healthy is not a sacrifice, then [they] start to enjoy it."
Consider reducing your red meat intake

Studies have shown high intake of red meat can increase health risks, so be smart about what you snack on.
"We have meat dishes at Trei, and I'm not a believer that [to] live healthy [you have to] cut them out," he says. "Meat is a great source of protein. But as someone who used to eat meat every single day, I wouldn't do that anymore."
Plant-based protein sources such as edamame and tempeh are good replacements to have on-hand, as is salmon if you choose to go pescatarian instead. There's also falafel – Trei makes a version with pumpkin, chickpeas, spices and oat flour.
A smarter swap

Even when ordering something healthy for lunch, it's hard not to reach for something fizzy from the drinks fridge to wash it down. Deane says Trei is in the process of swapping out soft drinks for Mojo kombucha, at both Trei and his new cafe, Pieces of April, set to open in Mount Waverly in just "a few weeks." With kombucha's combo of live cultures and probiotics, natural fermentation, low sugar, and absence of unpronounceable sweeteners, Deane says: "We feel it is going to be a good swap."
Focus the mind on positivity rather than setbacks

"I have little goals to achieve within a day, and eventually that becomes the bigger picture," says Deane. "Your bigger goal is always there, but the milestones help you get there and shouldn't be too far away from each other."
It's a mindset you can apply to your career, hobbies, passion projects and, of course, being healthy.
"It's hard to feel positive if you aren't hitting goals, so it's important to have those," he says. Achieving those keeps me positive rather than despairing at the end of the day, when I think about the rest of the work ahead."
This article is produced by Broadsheet in partnership with Mojo Kombucha.
Source link