[ad_1]
The sale of pangolin in wet markets should be strictly prohibited after samples of the animal were found by researchers to contain viruses similar to SARS-CoV-2, the coronavirus responsible for the COVID-19 disease pandemic.
An international team of researchers writing in Nature came to this conclusion after analyzing frozen tissue samples from 18 Malayan pangolins (Manis javanica) collected during anti-smuggling operations at Guangxi Customs in southern China between August 2017 and January 2018. RNA-sequencing found coronaviruses in samples from five of the 18 pangolins.
Further testing found coronaviruses in a second group of pangolins. Nineteen samples from 12 pangolins were analyzed. Three samples from three pangolins came back as positive, showing an 85.5 percent to 92.4 percent genetic sequence similarity to SARS-CoV-2.
The authors say it was "striking" to find sets of pangolins, which were independently sampled and collected in different parts of the country, contained coronaviruses so closely related to the one behind the pandemic. This, they say, suggests pangolins may be an important host for this group of viruses—a surprising find, given their solitary nature and low population size.
The study authors claim that pangolins are the only mammal other than bats harbouring SARS-CoV-2-related coronavirus, making them a potential incubator of disease.
But Professor Andrew Cunningham, Deputy Director of Science, Zoological Society of London (ZSL), said it was important not to jump to too many conclusions.
"While the paper is interesting, it is important not to overinterpret the results," he told Newsweek. "While it is possible that pangolins might be able to act as natural or intermediate—possibly amplifier—hosts for SARS-CoV-2, the publication does not provide enough evidence to come to this conclusion."
He also said claims that pangolins being the only species of mammal besides bats to harbour coronaviruses like these are misleading, explaining: "We already know that a wide range of mammals are hosts to coronaviruses—and they are just the ones in which coronaviruses have been looked for."
Last year, Cunningham co-authored a paper on beta coronaviruses found in British hedgehogs, a group that contains SARS coronaviruses.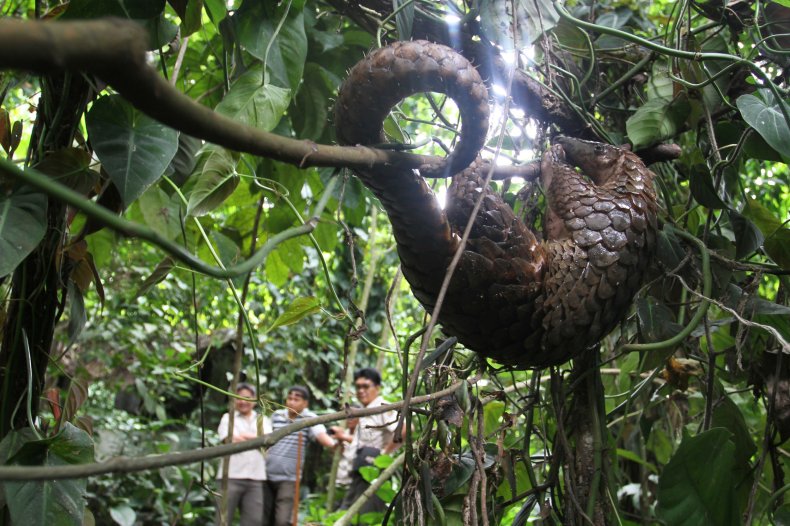 The outbreak of COVID-19 has been linked to a so-called "wet market" in Wuhan city, Hubei province, China, where wild animals were sold. Bats are considered to be the most likely source of the virus, but scientists have said it may have passed through another animal (an "intermediate host") before jumping to humans.
While the study authors were careful not to go so far as to say pangolins were the intermediate hosts, they warn pangolins could be possible hosts in the emergence of new coronaviruses. They call for more research into pangolins to determine exactly what role they play in the emergence of zoonotic diseases. In the meantime, they say the sale of pangolin should be strictly prohibited.
A second study published in the Journal of Proteome goes even further. After analyzing the genome of SARS-CoV-2, the authors suggest that pangolin is the "missing link" in the virus' transmission from bats to humans.
According to the World Wildlife Fund, pangolins are the most trafficked animals in the world and are highly sought after in China and Vietnam where they are prized for their meat, which is considered a delicacy, and scales, which are used in traditional Chinese medicine. While trade in pangolin products is strictly illegal, it is estimated that around 1,000,000 animals have been trafficked in the last year.
"Wherever the SARS-CoV-2 is demonstrated to have originated, the critical thing to bear in mind is that the disease risk comes from the keeping of animals, whether they be pangolins or other species in cramped, often unhygienic conditions in close proximity to people—the conditions under which viruses are enabled to cross the species barrier and infect people," Richard Thomas, Head of Communications at TRAFFIC, told Newsweek.
"Broadly speaking, any animal trade, even domesticated animals and whether legal or not, has the potential for disease transmission, so markets need to be regulated to mitigate against that risk," he added.
"Live wild animal markets, such as the huge 'wet' markets in Asia, are ideal places for zoonotic virus emergence to occur," said Cunningham. "Just as SARS did, the new coronavirus is thought to have emerged from a wet market in China.
"The highest priority for the protection of human health is, therefore, to ban 'wet' (live wild animal) markets and to carefully regulate any future legal wildlife trade."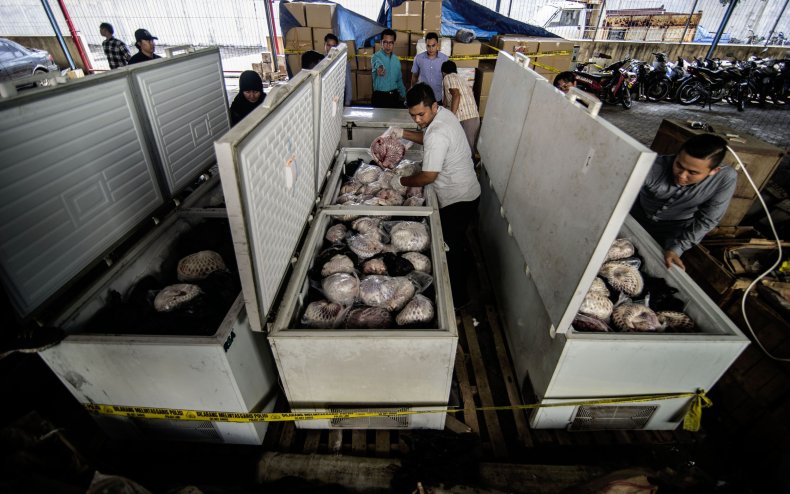 World Health Organization advice for avoiding spread of coronavirus disease (COVID-19)
Hygiene advice
Clean hands frequently with soap and water, or alcohol-based hand rub.
Wash hands after coughing or sneezing; when caring for the sick; before, during and after food preparation; before eating; after using the toilet; when hands are visibly dirty; and after handling animals or waste.
Maintain at least 1 meter (3 feet) distance from anyone who is coughing or sneezing.
Avoid touching your hands, nose and mouth. Do not spit in public.
Cover your mouth and nose with a tissue or bent elbow when coughing or sneezing. Discard the tissue immediately and clean your hands.
Medical advice
Avoid close contact with others if you have any symptoms.
Stay at home if you feel unwell, even with mild symptoms such as headache and runny nose, to avoid potential spread of the disease to medical facilities and other people.
If you develop serious symptoms (fever, cough, difficulty breathing) seek medical care early and contact local health authorities in advance.
Note any recent contact with others and travel details to provide to authorities who can trace and prevent spread of the disease.
Stay up to date on COVID-19 developments issued by health authorities and follow their guidance.
Mask and glove usage
Healthy individuals only need to wear a mask if taking care of a sick person.
Wear a mask if you are coughing or sneezing.
Masks are effective when used in combination with frequent hand cleaning.
Do not touch the mask while wearing it. Clean hands if you touch the mask.
Learn how to properly put on, remove and dispose of masks. Clean hands after disposing of the mask.
Do not reuse single-use masks.
Regularly washing bare hands is more effective against catching COVID-19 than wearing rubber gloves.
The COVID-19 virus can still be picked up on rubber gloves and transmitted by touching your face.
Source link