[ad_1]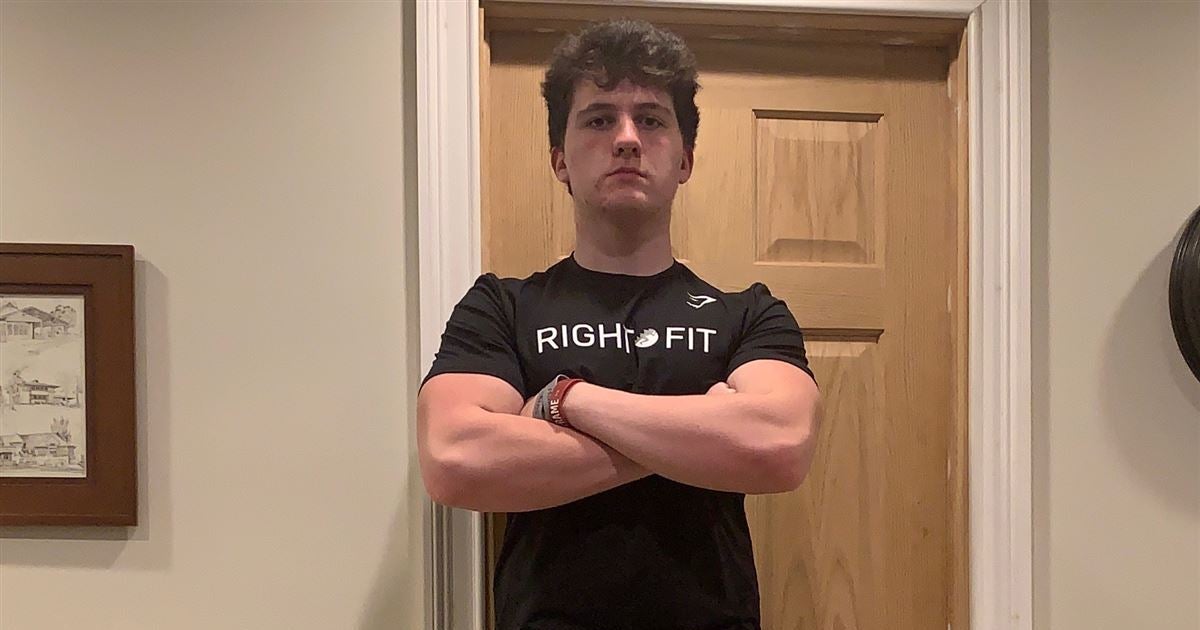 La Grange Park (Ill.) Nazareth Academy 2021 three-star defensive lineman Ryan Keeler is one of the midwest's top prospects.
Keeler holds offers from the likes of Michigan, Minnesota, Nebraska, Texas Tech, Kansas State, Ole Miss, and others.
This offseason has been a big one for Keeler in terms of transforming his body.
"The trainers and coaches at Nazareth, NLAP, Rightfit, and EFT are really helping me take my game to the next level," Keeler told 247Sports. "I have completely changed my body this offseason. I just had a complete body scan done. I dropped 30 pounds of fat since December while putting on 20 pounds of lean mass. My goal is to play my senior season at a lean and explosive 260 lbs."
"At NLAP, I have been focusing on speed, and explosive strength training. I have been paying close attention on the nutrition aspect of training. I feel like a completely different person, I am running a 4.7 laser time in the 40-yard dash. I am trying to get to a 4.6."
"At EFT, we focus more on DL training, I am doing that 4 times a week. The primary aspect of training is exploding off the ball, working on overall agility. I have been working on utilizing my hips and pass-rushing techniques. I have been training on Defensive Linework since 7th grade. I have had the opportunity to work with some great coaches. Coach Smith, Coach Stovall, Coach Richardson, and Coach Buchanan."
The main reason Keeler has transformed his frame is that it allows him to be more versatile on the football field. His main position is on the defensive line and out on the edge, but he could also play inside at tackle, and is open to play on the offensive line at the next level as well.
His versatility and production gives him the opportunity to get on the field early at the college level. Keeler's technique is advanced for his age and as he continues to build on his frame, that combination is going to be lethal in college. Keeler bends well and has violent hands at the point of attack with superb strength that gives him an advantage over an offensive lineman he goes up against.
"I am being looked at as a Jumbo Athlete, a player that can come into a school and make an impact on the field as a freshman," said Keeler. "The majority of schools like me as a strong-side defensive end and a third-down defensive tackle. However, I am starting to hear from colleges to play on the offensive side of the ball. I am open to playing offensive line, for the right school in a system I can excel in."
Keeler has visited a lot of schools and developed a lot of solid relationships with college coaches throughout the recruiting process. That said, he is farther along in the recruiting process than most, and is continuing to hear from programs that have been recruiting him for a while as well as new programs.
"I had several schools at the top of my list," Keeler said. However, the list is evolving as I continue to build relationships with coaches. The coaching carousel this year has moved a lot of coaches around. Coach [Kevin] Cosgrove from Texas Tech was recruiting me at LSU. Coach [Jim] Panagos from Rutgers was recruiting me at Minnesota. Coach [Chris] Partridge from Ole Miss was recruiting when me when he was at Michigan. Coach [Ted] Gilmore and Coach [Ross] Els from Michigan State were each recruiting me at their previous schools."
"What I have learned in this process is that recruiting is a relationship business. You need to build a relationship with the coaches you will be playing for. I want to play for a coach who I can trust, that will continue to mentor me in becoming a man."
Like other prospects, the coronavirus pandemic has basically paused Keeler's recruitment. He's unable to visit schools that he wanted to take official visits to in June, so his timeline will be pushed back a bit.
"The Corona pandemic has definitely impacted my recruitment in a big way," said Keeler. "I was planning on taking numerous unofficial visits so that I could narrow down my top five schools. Then I would focus on the schools and would be committed in June. Ideally, I will commit towards the end of this summer."
"However, it will be tough to commit to a school without visiting and getting a feel for the atmosphere. The shutdown and social distancing have created new opportunities. Schools are reaching out on face time, and providing digital tours of the facilities and campus. It has definitely given me more of an opportunity to continue building relationships and establish new relationships with coaches from schools who were not on my radar prior to this offseason."
While the coronavirus is an inconvenience, Keeler knows what he wants in a school, and is willing to be patient.
"I am open to playing anywhere in the country," Keeler said. "I just want to make the best decision possible. It's not a four-year decision it's a forty-year decision. I just want to find the right fit, where I can continue to grow as a student and a player."
One thing driving Keeler this offseason is getting back to the state championship. Last season, Keeler and the Roadrunners fell to Mount Carmel in the IHSA 7A State Title game, and that feeling is one that he doesn't want to feel again.
Nazareth will have a good shot of making it back to DeKalb with all the talent coming back on the offensive end including five-star quarterback and Michigan commit JJ McCarthy, three-star wideout Landon Morris, four-star wide receiver Tyler Morris, and wide receiver/tight end Tanner Koziol, who has an offer from North Dakota and FBS interest.
The defense will be led by Keeler, three-star defensive end Daine Hanson, and another strong lineman in Drew Hughes, who has offers from Miami (OH) and Ball State.
247Sports lists Keeler as a three-star recruit and the No. 50 strongside defensive end in the class of 2021 nationally.
Source link