[ad_1]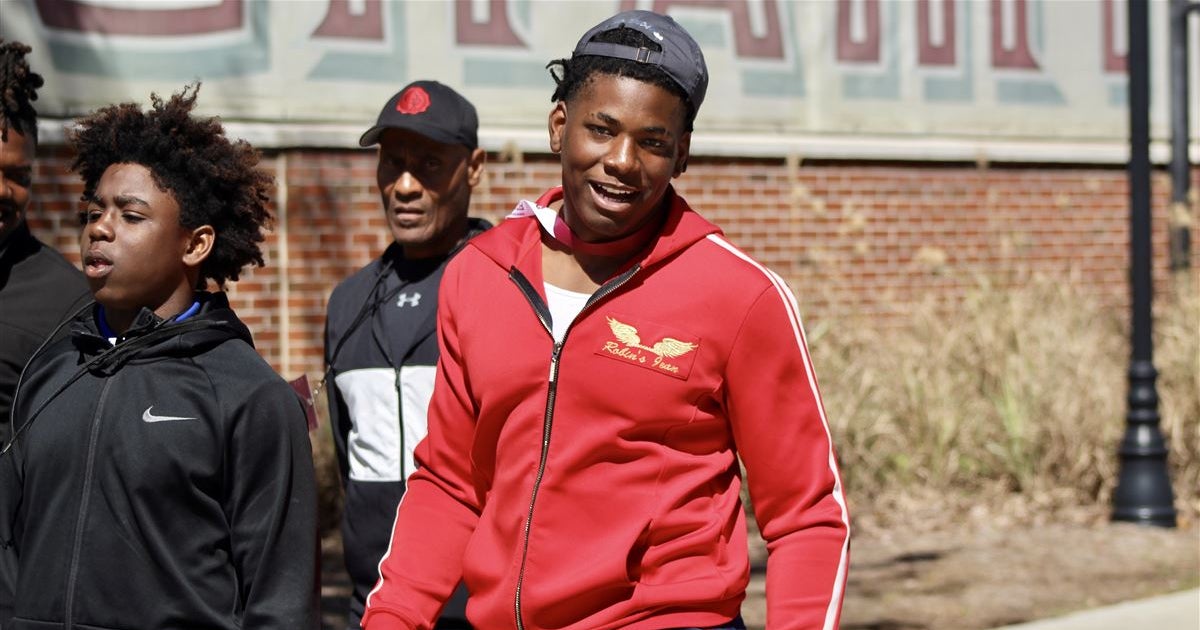 Havana (Fla.) Gadsden County three-star strong-side defensive end Joshua Farmer committed to Florida State in late January. Since making that pledge, he has remained firm and focused on the Seminoles.
"A couple of other schools still try to talk to me, but I think most of them know that I am pretty much all 'Nole," Farmer said. "I am confident in my decision."
He mentioned that some of the schools maintaining contact are Miami, Nebraska, Tennessee and Texas A&M.
Instead of worrying about recruiting, Farmer has been dialed in on transforming his body.
"I needed it," Farmer said of focusing on getting in better shape. "Coach Corey Fuller, my head coach, and then my assistant head coach, Devin Rispress, and Coach Mark Liles, they told me that I needed to drop body fat and build more muscle to get more explosive and to also work on my bend when I first transferred in to Gadsden.
"They just worked with me and helped me," Farmer added. "It has been like a five-month transformation. I've done things 2-to-3 times a day, different stuff. They didn't sugarcoat it with me, they told me what I had to do."
Farmer admits it wasn't the easiest transformation, especially at first.
"Two to three workouts a day with Coach Liles, you can ask anybody, that is a killer," Farmer said. "You don't want to do it every day, but it has been worth it. It has paid off. It is just the beginning. I'm just warming up."
As for the transformation, Farmer shed some light on what things are like for him now.
"I am 6-foot-3.5 and I weigh 254 pounds right now. I definitely have less body fat. I am way more explosive [than I was]. I have better footwork. More coordination and better body control thanks to Coach Liles," Farmer said.
The work has translated to the field for Farmer, where he said he notices a drastic difference.
"Oh yeah," Farmer said. "Way more explosive and my body control, like I said, is drastically better. Coach Mark Liles got me right."
His effort to transform his body isn't near finished, and he is also working to sharpen other parts of his game.
"I want to get down to a little less body fat," Farmer said. "I really also want to work on my hands more too. I feel like last year I was a little raw with my mechanics. Me and Coach John [Johnathan Holston], our defensive line coach, he played at Louisville, we've been working to death on mechanics."
This coming season, his final one in the high school ranks, Farmer expects to continue to handle a strong-side role.
"I am an end, but in certain situations I know I am going to have to move in," Farmer said. "I definitely want to stay on the end this coming year."
"I like pass rushing from the three [technique]," Farmer added.
As for at FSU, he shared a bit of who he is talking to and what they are telling him.
"I talk with Coach Adam Fuller, Coach Odell [Haggins] and Coach [Mike] Norvell," Farmer said. "And Coach Clint [Clinton McMillan], that is my guy.
"They tell me I could play inside and out," Farmer added. "Depending on how my body develops, it depends. For right now, I am going to start out at end."
The 247Sports.com Composite Rankings consider Farmer the No. 492 prospect in the nation and No. 32 strong-side defensive end.
Source link