[ad_1]
A potential vaccine for the new coronavirus that causes COVID-19 appears to kickstart the immune system of mice.
The PittCoVacc, a patch the size of a fingerprint covered in 400 tiny needles, triggered the creation of antibodies against the new coronavirus in mice, according to the authors of the paper published in the journal EBioMedicine. The antibodies were created "as early as 2 weeks after immunization," the team based at the University of Pittsburgh wrote.
The authors said "it is still early to predict whether humans immunized with these vaccine candidates will have similar responses" and be protected from the new coronavirus, but their work demonstrates that a vaccine candidate can be quickly created.
The microneedles are made of dissolvable sugar and pieces of what is known as the spike protein, which the virus uses to bind to cells and infect its host.
Co-author Dr. Louis Falo, professor and chair of dermatology at Pitt's School of Medicine and University of Pittsburgh School of Medicine, commented in a statement: "We developed this to build on the original scratch method used to deliver the smallpox vaccine to the skin, but as a high-tech version that is more efficient and reproducible patient to patient.
"And it's actually pretty painless—it feels kind of like Velcro."
There is currently no treatment or vaccine for the new coronavirus named SARS-CoV-2, not to be confused with the severe acute respiratory syndrome (SARS) virus, SARS-CoV. As shown by the Statista map further down the page, COVID-19 has reached almost every country and territory across the world. According to Johns Hopkins University, more than 1 million COVID-19 cases have been confirmed, 53,160 people have died, and almost 212,000 have recovered.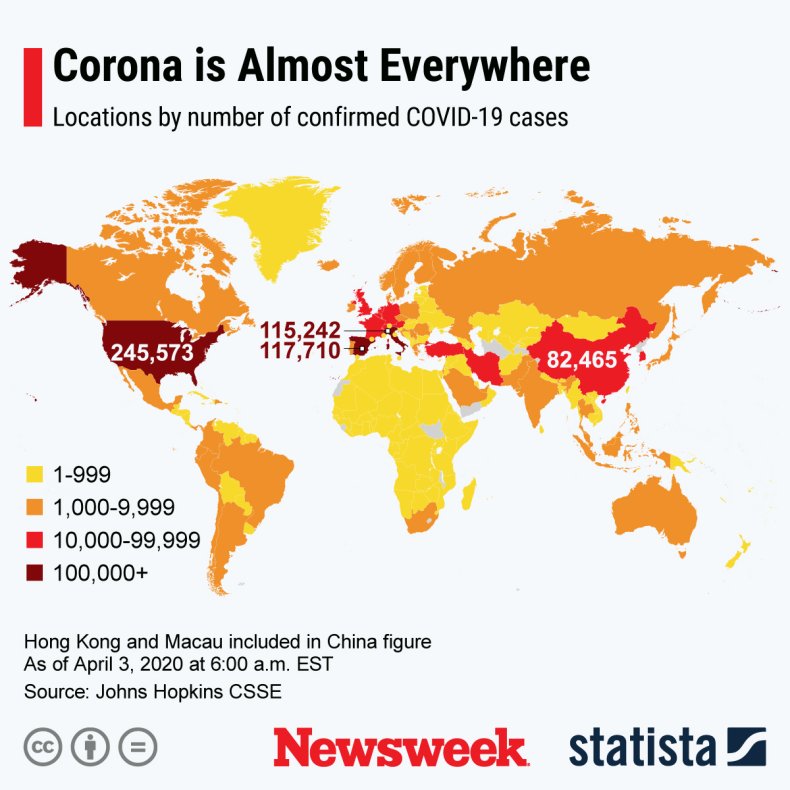 The researchers have applied to the U.S. Food and Drug Administration for permission to test the virus in humans in the coming months. This comes after scientists at Kaiser Permanente Washington Health Research Institute in Seattle started testing their new COVID-19 jab in humans last month.
Falo said: "Testing in patients would typically require at least a year, and probably longer.
"This particular situation is different from anything we've ever seen, so we don't know how long the clinical development process will take. Recently announced revisions to the normal processes suggest we may be able to advance this faster."
The researchers were able to develop the vaccine relatively quickly because of their previous work on a potential vaccine against Middle East Respiratory Syndrome (MERS). They tested both traditional jab vaccines and the microneedle array and found the latter prompted "significantly stronger immune responses" for their vaccine candidates.
The preparation for MERS prompted mice to create antibodies at a level that could neutralize the virus for a year. The mice given the SARS-CoV-2 vaccine will be monitored to see if they have the same results.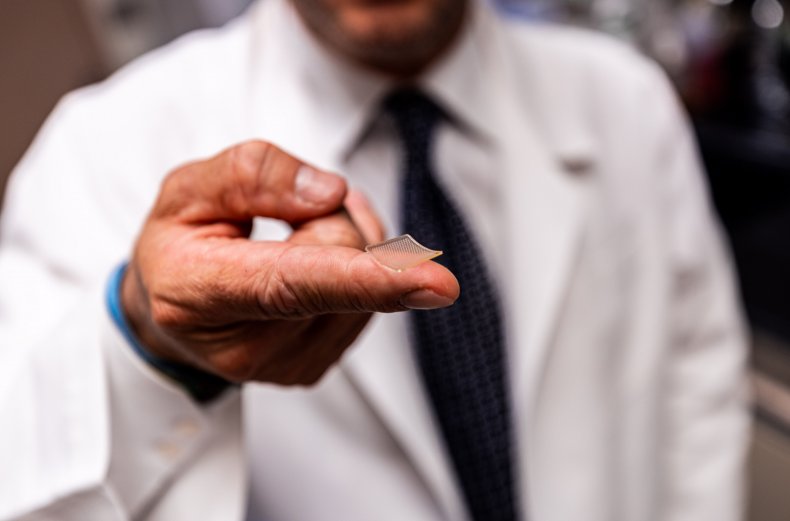 Dr. Andrea Gambotto, associate professor of surgery at the Pitt School of Medicine, commented in a statement: "We had previous experience on SARS-CoV in 2003 and MERS–CoV in 2014. These two viruses, which are closely related to SARS-CoV-2, teach us that a particular protein, called a spike protein, is important for inducing immunity against the virus. We knew exactly where to fight this new virus.
"That's why it's important to fund vaccine research. You never know where the next pandemic will come from."
The patch still appeared to work after being sterilized with gamma radiation, which is important for use in humans, according to a statement by UMPC.
The team hopes the microneedle array could also be used against a range of other infectious diseases.
Falo said: "Our ability to rapidly develop this vaccine was a result of scientists with expertise in diverse areas of research working together with a common goal."
Professor David Kelly, Professor of Microbiology at The University of Sheffield, U.K., who did not work on the study, told Newsweek: "This is an important study showing a good antibody response in mice within 2 weeks of vaccination – an essential requirement, but is only the beginning of the long process to vaccine development for human use."
Kelly said: "The team have used a microneedle delivery system for the vaccine candidate, which is minimally invasive and would be less painful in humans than intramuscular injection. The overall approach they have used is the tried and tested protein subunit vaccine method, as opposed to other studies which are using viral RNA."
He cautioned the work "does not yet tell us if the antibodies that are generated are neutralizing, i.e. will lead to inactivation of the virus. But the team's experience with MERS (a similar virus) suggests that this may well be the case."
World Health Organization advice for avoiding spread of coronavirus disease (COVID-19)
Hygiene advice
Clean hands frequently with soap and water, or alcohol-based hand rub.
Wash hands after coughing or sneezing; when caring for the sick; before, during and after food preparation; before eating; after using the toilet; when hands are visibly dirty; and after handling animals or waste.
Maintain at least 1 meter (3 feet) distance from anyone who is coughing or sneezing.
Avoid touching your hands, nose and mouth. Do not spit in public.
Cover your mouth and nose with a tissue or bent elbow when coughing or sneezing. Discard the tissue immediately and clean your hands.
Medical advice
Avoid close contact with others if you have any symptoms.
Stay at home if you feel unwell, even with mild symptoms such as headache and runny nose, to avoid potential spread of the disease to medical facilities and other people.
If you develop serious symptoms (fever, cough, difficulty breathing) seek medical care early and contact local health authorities in advance.
Note any recent contact with others and travel details to provide to authorities who can trace and prevent spread of the disease.
Stay up to date on

COVID

-19 developments issued by health authorities and follow their guidance.
Mask and glove usage
Healthy individuals only need to wear a mask if taking care of a sick person.
Wear a mask if you are coughing or sneezing.
Masks are effective when used in combination with frequent hand cleaning.
Do not touch the mask while wearing it. Clean hands if you touch the mask.
Learn how to properly put on, remove and dispose of masks. Clean hands after disposing of the mask.
Do not reuse single-use masks.
Regularly washing bare hands is more effective against catching

COVID

-19 than wearing rubber gloves.
The

COVID

-19 virus can still be picked up on rubber gloves and transmitted by touching your face.
Source link