[ad_1]
COVID-19 cases continue to rise in China where it originated and around the world, raising concerns among health officials that the opportunity to significantly fight the virus is waning.
"The window of opportunity is still there, but the window of opportunity is narrowing," the World Health Organization Director-General Tedros Adhanom Ghebreyesus said during a briefing on Friday. "We need to act quickly before it closes completely."
On Sunday, cases outside of China rose to 1,769, an increase of about 26 percent from the previous day's reporting. In addition to the 367 new cases outside of China, there were 1,017 new cases in the origin country, bringing the total number of cases to 78,811, according to the World Health Organization (WHO).
Since being discovered in humans for the first time in December, 29 countries have reported cases of the pneumonia-causing virus. It's taken the biggest toll on China, where there have been 77,042 confirmed cases and 2,445 deaths.
Following China, South Korea has had the greatest number of cases—602, as of Sunday—and President Moon Jae-In called for "unprecedented" and "powerful" steps to fight the virus. Officials raised the national alert for the virus to the highest level, the first time they've done so in 11 years, according to ABC News.
"The COVID-19 incident has been confronted by a grave watershed," President Moon said at a government meeting about the crisis. "A few days from now is a very important moment."
Most countries have had fewer than 50 cases, according to WHO, with fifteen confirming less than 10. In European countries, cases have largely remained low, ranging from one to two, but in Italy, cases have surged past 200, the most of any European country.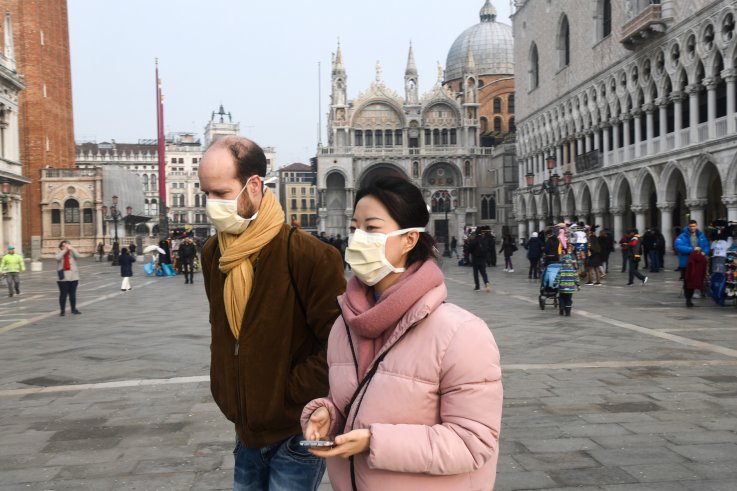 On Monday, Italy's Department of Civil Protection confirmed there were 219 cases in five regions with the bulk of the cases identified in Lombardy. Of the confirmed cases, one person recovered and five people died. Italy's Health Minister Roberto Speranza issued a new ordinance on Friday that imposed mandatory quarantines for close contacts of confirmed cases and active surveillance for those who were in "at-risk" areas in the last 14 days.
"We must face a challenge that must see the whole country united with a consistent method based on scientific evidence," Speranza said on Monday.
European Commissioner for Crisis Management Janez Lenarčič praised Italy for its "experienced people and effective structures" during a press conference. He was confident those measures in place gave Italy the ability to "respond in a well-coordinated manner to this outbreak."
To further the global fight against the new coronavirus, Lenarčič announced the mobilization of 232 million euros. Of the "joint contribution" 114 million euros would be given to WHO, 15 million would go to support "partner countries to strengthen their resilience and preparedness" and 100 million euro would go into researching and developing vaccines and treatments. Three million euros would also support sending protective equipment to China and repatriations of European Union citizens.
Source link