[ad_1]
Vulnerable people in England who have been asked to remain at home since the coronavirus lockdown began will be able to go outdoors again from Monday.
Those with families will be able to go out once a day with members of their household.
People living alone can meet one other person from another household while maintaining social distancing.
The guidance – in place for 10 weeks – had indicated shielding measures would remain until 30 June.
Support for shielders, such as food and medicine deliveries, will continue.
In Wales, people have been asked to shield until 15 June and in Northern Ireland and Scotland people have been advised to shield for at least 12 weeks from when they were first told to do so.
Communities Secretary Robert Jenrick will announce details of the changes in England at Sunday's government Downing Street press conference.
Around 2.2 million people were asked to stay at home as lockdown began, because they were identified as being at particularly high risk of needing hospital treatment for coronavirus symptoms.
Most were notified by their GP.
They included solid organ transplant recipients, cancer patients undergoing chemotherapy, pregnant women with heart disease and people with severe respiratory conditions such as cystic fibrosis and severe asthma.
Not all elderly people were asked to shield.
Some were later removed from the shielding list if they no longer met the requirements.
---
Shielding has become 'more challenging'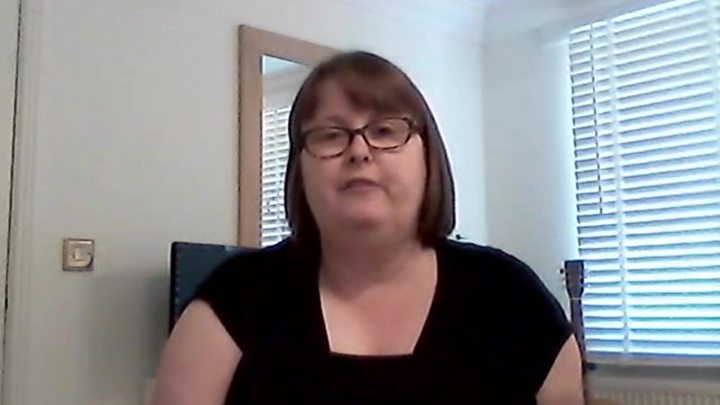 Lynne Loomes, a primary school teacher from Gloucestershire, is one of those who has had to stay inside having been diagnosed with an autoimmune disease last year.
She told BBC Breakfast that the easing of lockdown measures has made shielding more challenging – especially since she has had to tell her children they cannot go out for socially-distanced meet ups with friends.
"I'm having to say 'no, you can't, because that increases the risk for me'," she said.
"In terms of day-to-day we've tried to get up as normal. We've tried to keep the routine as if we were going to work," she added.
"But it has actually got harder as some of the rules have eased, because we know that it doesn't really change for us as a family."
---
Prime Minister Boris Johnson said that "thousands of lives" had been saved by those who had shielded themselves.
"We have been looking at how we can make life easier for our most vulnerable, so today I am happy to confirm that those who are shielding will be able to spend time outside with someone else, observing social distance guidelines," he said.
Some scientists have expressed concerns about England's easing of lockdown rules while infection rates remain at around 8,000 per day according the Office for National Statistics.
"Many of us would prefer to see the incidence down to lower levels before we relax measures," said Professor John Edmunds, from the London School of Tropical Hygiene and Medicine and one of the government's top advisors.
"Covid-19 spreading too fast to lift lockdown in England," tweeted Jeremy Farrar, director of the Wellcome Trust.
England's Deputy Chief Medical Officer Prof Jonathan Van-Tam said the consensus among scientists was that the new measures were not expected to push the rate of infection above the key R value of 1.0.
However, he urged the public to be "sensible and proportionate with the freedom we have wanted to give people", saying the UK is "at a dangerous moment" and the easing of lockdown "has to go slowly".
Reacting to the change, Phil Anderson from the MS Society said thousands of the more than 130,000 people with MS in the UK had been feeling "forgotten" after months of shielding.
He said they were concerned the news had come "out of the blue" and extremely vulnerable people would want to hear "a lot more about the scientific evidence showing this will be safe for them".
He also called for better mental health support for everyone who needs it.
In other developments:
Labour MP Rosie Duffield has resigned as a Labour whip and apologised, after she met her married partner in April for a walk while they were living separately, before meetings between people from different households were allowed. Ms Duffield said in a statement that she and her partner had been trying to "navigate a difficult personal situation as responsibly as possible" and apologised for the breaches that occurred.
Sir Patrick Vallance, the UK's chief scientific adviser, has defended how guidance is presented to ministers, following concerns lockdown was being eased too soon. He wrote in the Sunday Telegraph: "The evidence we present to ministers will always be based on a careful analysis of the science available at the time."
A letter has been sent by 26 senior UK academics and health officials to Boris Johnson warning that public faith in the government has been "badly damaged" by Dominic Cummings' trip to County Durham at the height of lockdown. By remaining in post as the PM's chief aide, Mr Cummings has further dented the public's faith in the government, the letter says.
The Mail on Sunday claims that former teacher Robin Lees, who alerted police to Mr Cummings' movements, allegedly broke lockdown rules himself. Mr Lees denies this, saying he complied with the relevant rules at the time, after he allegedly drove to pick up his student daughter from Berkshire. The paper also claims that Tim Matthews, who said he saw Mr Cummings in Durham on 19 April, changed the details on an app which records runners' routes and times to make it seem like he had seen Mr Cummings in Durham after he had returned to London. The paper says Mr Matthews said he changed it back later on and he had seen Mr Cummings while out running, but he cannot be sure when.
Research indicates nearly two-thirds of care homes in Britain have not had any of their staff tested for coronavirus. The figures, from the Data Analysis Bureau, suggest that the UK government is a long way from meeting its target of testing all people in care homes by early next month
---
How have you been affected by the issues relating to coronavirus? Share your experiences by emailing haveyoursay@bbc.co.uk.
Please include a contact number if you are willing to speak to a BBC journalist. You can also contact us in the following ways:
Source link