[ad_1]
A new study has found that those who tested positive for COVID-19 were twice as likely to have dined at a restaurant in the 14 days before falling ill.
The study, published by the U.S. Centers for Disease Control and Prevention (CDC) on Friday, looked at symptomatic cases from 11 healthcare facilities in the U.S. between July 1 and 29.
The study's final sample of 314 eligible participants included 154 people who tested positive for coronavirus and 160 control participants.
Although similar numbers reported always wearing a mask or face covering when in public places (71 percent of positive cases compared to 74 percent of negative cases), the CDC study found that that those who tested positive were twice as likely to have eaten at a restaurant in the two weeks before testing positive. The survey did not ask participants if they had dined indoors or outdoors.
Newsweek subscription offers >
The study said around half of all participants reported shopping and visiting people in their homes in the two weeks before testing.
It also found that similar numbers of people in both positive and negative cases reported visiting gyms, hair salons or a place of worship.
A higher number of those who tested positive reported having had close contact with a confirmed COVID-19 case (42 percent) than those who tested negative (14 percent). Around half the time the contact was a family member, the study found.
Researchers say the findings suggest that people are contracting the virus in areas where they have to remove their masks to eat and drink. Reports of exposure to the virus have been linked to air circulation, they said.
Newsweek subscription offers >
"Direction, ventilation, and intensity of airflow might affect virus transmission, even if social distancing measures and mask use are implemented according to current guidance," they wrote. "Masks cannot be effectively worn while eating and drinking, whereas shopping and numerous other indoor activities do not preclude mask use."
They added: "As communities reopen, efforts to reduce possible exposures at locations that offer on-site eating and drinking options should be considered to protect customers, employees, and communities."
The study's authors acknowledged the limitations of their study, noting that efforts to match positive and negative cases by age and sex were not maintained for various reasons, such as participants not meeting eligibility criteria, refusing to participate or not responding.
They also noted that participants were aware of their test results which "could have influenced their responses to questions about community exposures and close contacts."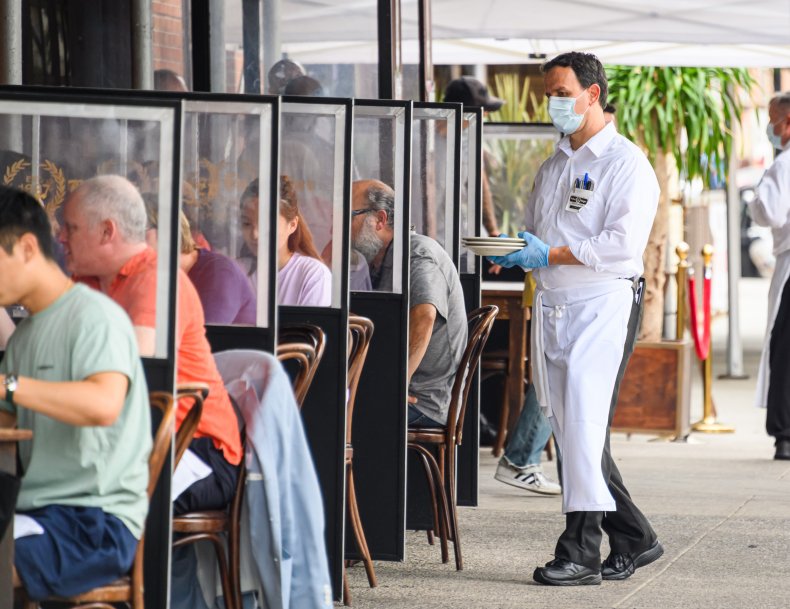 .node-type-article .article-body > p:last-of-type::after, .node-type-slideshow .article-body > p:last-of-type::after
content: none
Source link