[ad_1]
We're tracking the latest on the coronavirus outbreak and the global response. Sign up here for our daily newsletter on what you need to know.
Germany is entering a hard lockdown from Wednesday as Chancellor Angela Merkel declared previous measures to be insufficient.
Hungary's death toll remained near a record high a month after Prime Minister Viktor Orban imposed restrictions on movement. The U.K.'s National Health Service warned the government not to relax rules in hard-hit areas during the holiday period.
Bahrain followed the United Arab Emirates in approving Sinopharm Group Co.'s coronavirus vaccine. U.S. government-approved shots from Pfizer Inc. and BioNTech SE are due to arrive at the first administration sites on Monday.
Key Developments:
Subscribe to a daily update on the virus from Bloomberg's Prognosis team here. Click CVID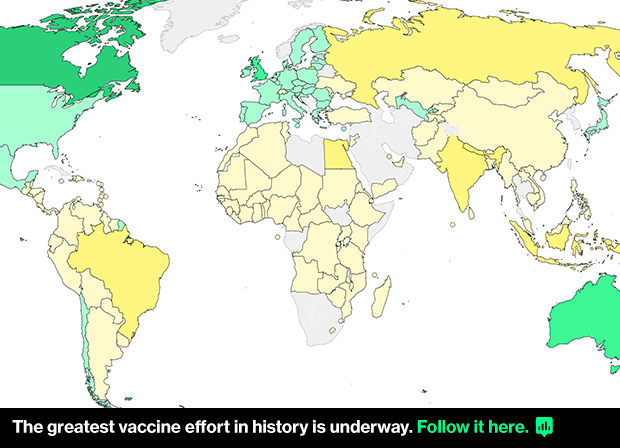 U.K. Government Warned Over Christmas (6:33 p.m. HK)
The U.K. government has been warned by leaders of the National Health Service that a plan to ease lockdown restrictions in hard-hit parts of the country for the Christmas holiday period could lead to a third wave of infections, the Times of London reported.
Last month, Prime Minister Boris Johnson said the government would likely ease the tightest restrictions affecting millions of Britons in time for the holidays with further steps for the five-day period over Christmas.
Foreign Secretary Dominic Raab told Sky News Sunday that the government would not be "canceling" the Christmas break. "I think people do need that five day window for Christmas to spend a bit of time with their loved ones" Raab said.
Germany to Enter Hard Lockdown (6:08 p.m. HK)
Germany will enter a hard lockdown from Wednesday with non-essential stores shuttered, employers urged to close workplaces and school children encouraged to remain at home.
The tighter restrictions — including a ban on gatherings over the New Year — will last until at least Jan. 10 as a looser shutdown failed to halt a surge in infections and deaths.
Hungary's Death Toll Stays Near Record (6:02 p.m. HK)
Hungary reported 181 fatalities from coronavirus Sunday, with 4,153 additional infections. The death toll has stayed around all-time highs more than a month after the government tightened lockdown restrictions.
Hong Kong Reports Additional Cases (5:55 p.m. HK)
Hong Kong reported 95 new virus cases on Sunday, three of which were imported. Among the local infections, 41 are of unknown origin, one of the highest numbers in the city's latest wave.
Bahrain Approves China's Sinopharm Vaccine (3:50 p.m. HK)
Bahrain approved the registration of the Sinopharm Group vaccine against the coronavirus, about a week after the United Arab Emirates registered it.
"Results from Phase III clinical trials showed an 86% efficacy rate, a 99% seroconversion rate of neutralizing antibody and 100% effectiveness in preventing moderate and severe cases of Covid-19," the National Health Regulatory Authority said in a statement Sunday.
German Cases, Deaths Retreat Further From Highs (3 p.m. HK)
Germany's new coronavirus infections and deaths retreated further from Friday's records, as officials weigh imposing a hard lockdown to check the spread of the disease.
There were 21,792 new cases in the 24 hours through Sunday morning, and the number of fatalities rose by 333, according to data from Johns Hopkins University. On Friday, infections jumped by 32,734 and deaths increased by 604, both records.
Chancellor Angela Merkel and the leaders of Germany's 16 states are expected to agree on tighter restrictions at a meeting Sunday, including closing non-essential stores and prolonging the school vacation.
Oil Rises as the Big Coronavirus Recovery Trade (1:15 p.m. HK)
While crude isn't back to normal yet, positive signals are proliferating. In a world where travel is expected to recover sharply next year, oil has become a hot coronavirus vaccine trade.
Demand in Europe is bouncing back as a second wave of lockdowns eases, while Asia continues to pull in huge volumes of crude.
Sinopharm Unit Expects to Produce 1 Billion Vaccine Doses Next Year: Global Times (12:44 p.m. HK)
Japan Cabinet Approval Rating Drops to 40% on Virus: Mainichi (12:41 p.m. HK)
Approval rating dropped 17 points from the previous survey because of dissatisfaction with the way the government has handled the coronavirus pandemic, according to a Mainichi Shimbun opinion poll.
China Suspends Russian Fish Product Imports: Global Times (10:45 a.m. HK)
Fish product imports from Russian manufacturer Vostok-ryba Co. have been suspended for one week after outer packaging of frozen salmon tested positive to coronavirus, the Global Times reported.
Japan May Halt Travel Subsidy Campaign in More Cities: Reports (10:35 a.m. HK)
Japan may stop the campaign in Tokyo and Nagoya because of rising coronavirus cases, local media reported Sunday.
The government will hold talks with governors of regions where infections are rising, Economy Minister Yasutoshi Nishimura told NHK. The program to the two cities may be suspended until Dec. 25, FNN reported, without saying where it got the information.
Brazil Reports 43,900 New Cases in Past 24 Hours (10:30 a.m. HK)
Brazil has total infections of 6,880,127, according to Health Ministry data released Saturday. Death toll rose 686 in the past 24 hours to 181,123.
Earlier, the nation's health ministry on Friday delivered a national immunization plan to the Supreme Court and the Federal Attorney's Office, according to a note on the ministry's website Saturday.
The plan will be released to Brazilians on Thursday, The country has the world's third-highest number of Covid-19 cases, according to data collected by Johns Hopkins University and Bloomberg News.
South Korea Reports Record Cases for Second Day (9:52 a.m. HK)
South Korea reported 1,030 confirmed cases on Sunday, breaking the previous day's record of 950 infections. More than 70% of the 1,002 local infections reported Sunday were in the greater Seoul area, according to the Korean Disease Control and Prevention Agency.
Biden Urges Congress to Act on Relief Package (9:37 a.m. HK)
Los Angeles County Sees One Death Every 20 Minutes (9:05 a.m. HK)
Los Angeles Mayor Eric Garcetti issued a stark statistic for the pandemic on Saturday: "This week, every 20 minutes someone in L.A. County is dying from Covid-19."
The number of cases in Los Angeles County reached 512,872 by Saturday, with deaths totaling 8,269. Garcetti warned a week ago that fatalities could exceed 11,000 by the end of the year.
The county of 10 million, one of the first in the U.S. to shut down non-essential businesses in March along with other curbs, said enforcement remains the key obstacle to containing the spread.
Peru Suspends Trial of China Vaccine After 'Adverse Event' (6:38 a.m. HK)
Peru has temporarily suspended trials of Sinopharm Group Ltd.'s Covid-19 vaccine after an unspecified "adverse event" was reported during a clinical trial.
Phase 3 trials started in September. Peru has seen more than 980,000 cases and 36,544 deaths from coronavirus, according to data compiled by Bloomberg.
CDC Advisers Back Pfizer-BioNTech Vaccine (3:09 p.m. NY)
A panel of advisers to the Centers for Disease Control and Prevention voted to recommend that people age 16 and older receive Pfizer Inc. and BioNTech SE's Covid-19 vaccine, clearing one of the last hurdles for U.S. vaccinations.
CDC Director Robert Redfield must give a final sign-off on the panel's recommendations at a meeting on Saturday.
— With assistance by Tim Smith, Matthew Burgess, Iain Rogers, Farah Elbahrawy, Stepan Kravchenko, Natalie Lung, Ditas B Lopez, Claudia Maedler, Rafaela Lindeberg, Angelica LaVito, Ezra Fieser, Ayai Tomisawa, Reema Al Othman, and Denise Wee
Source link