[ad_1]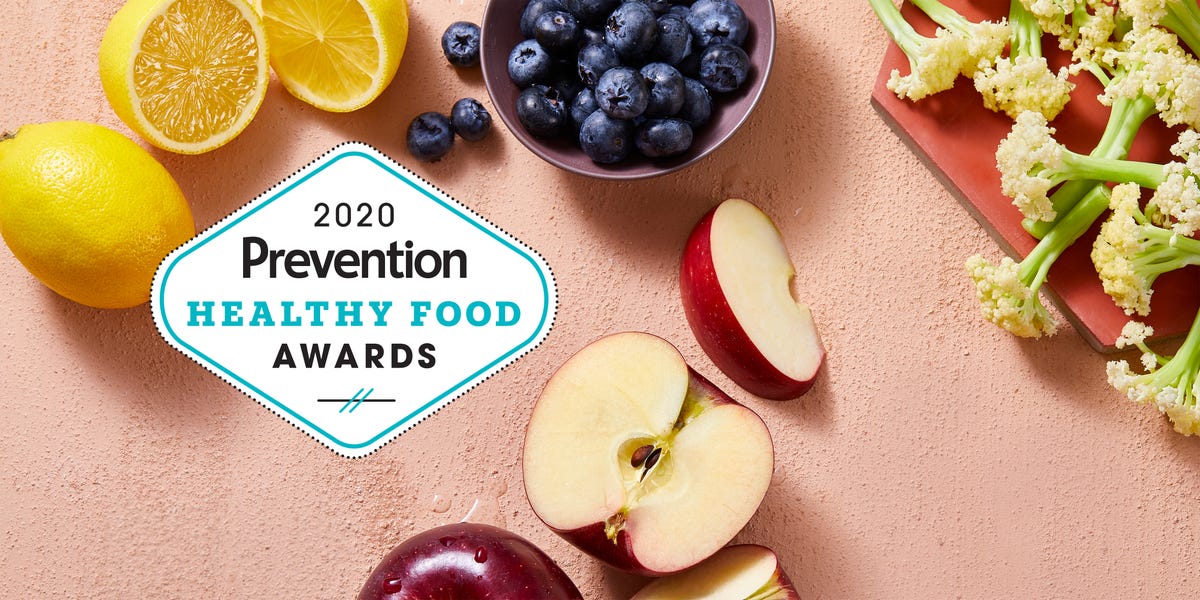 The Prevention Test Kitchen staff spent the winter investigating hundreds of nutrition labels and tasting dozens of products from all aisles of the grocery store. The only criteria? Everything had to be made with real, recognizable ingredients, contain no trans fats or hydrogenated oils, have less than 10 grams of added sugars per serving, and avoid excess sodium.
They're stuffed—but happy to bring you these, the 24 very best items to keep stocked in your pantry and fridge. Most of these goodies are also available at supermarkets around the country, so keep an eye out for them during your next trip. Here's to eating well!
1
Cosmic Crisp Apples
It was in the works for over 20 years, and now the Washington State variety is the ultimate apple (a cross between Enterprise and Honeycrisp), with a super-crunchy, juicy texture.
2
Wonderful Seedless Lemons
With this naturally seedless non-GMO variety, there's no need to remove those pesky pips. They're perfect to squeeze or slice for garnish—you'll never want to go back to regular lemons.
3
Driscoll's Limited Edition Sweetest Batch Blueberries
The berry brand pros have launched bigger, sweeter fruits, grown on a limited scale and available for short periods. Add these to pancakes or muffins or eat by the handful for a serious antioxidant boost.
4
Mann's Caulilini Baby Cauliflower
Broccolini meets cauliflower in these cute florets, which add texture and sweetness to any stir-fry, crudités platter, or side dish.
5
Milkadamia Unsweetened Vanilla Creamer
Coconut cream and macadamia milk come together with less sugar than regular milk (and a nice hint of vanilla).
6
Vital Farms Ghee Butter
If you have a dairy allergy, opt for this squeezable bottle. Made by removing milk solids from melted butter, this is a super flavorful fat for cooking at higher temps.
7
Nancy's Oatmilk Non-Dairy Yogurt, Apple Cinnamon
Last year's trendiest milk, loved by baristas everywhere, is now in yogurt form. This winner tastes like your favorite oatmeal stirred into yogurt.
8
Folios Cheese Wraps
If gluten isn't your jam, stock up on these cheesy lactose-free wraps (use them just like wheat-based ones) that can be rolled, melted, or crisped.
9
Just Egg
Introducing the vegan answer to scrambled eggs: Made with mung bean and turmeric, these scramble like the real deal.
10
Applegate Naturals No Sugar Original Pork Breakfast Sausage
It can be tough to find sausage without preservatives, fillers, or additives, but Applegate's has only pork and spices.
11
Pure Farmland Plant-Based Meatballs
We were won over by the mild taste of these vegan dinner starters that could be tossed with marinara or pesto or stuffed into a pita with yogurt and salad. And with 15 g of protein per serving, they stack up to the meat-based versions.
12
Blue Circle Happy Fish, Salmon
Sustainably sourced salmon will please kids and adults alike in these fish-stick alternatives that take only 8 minutes to cook from frozen.
13
Caulipower Spicy(ish) Chicken Tenders
The cauliflower craze meets a childhood favorite in these slightly spicy cauli-crusted, gluten-free tenders, made with all-natural cage-free chicken.
14
Green Giant Cauliflower Gnocchi
Fill your freezer with these for nights when you want a comforting dinner that serves up a decent dose of veggies.
15
Dave's Killer Bread Sprouted Whole Grains, Thin-Sliced
Made with organic oats, wheat, and rye—no high-fructose corn syrup or artificial preservatives here!—these thin whole-grain slices are the best thing since … well, you know.
16
Silver Hills Organic Sprouted Power Bagels
Bagels aren't usually noted for being a health food, but these are the exception, made with 27 sprouted whole grains.
17
Banza Lasagna
With twice the protein and three times the fiber of traditional pasta, this gluten-free (and no-bake) option makes the ultimate good-for-you lasagna.
18
Angelic Bakehouse Turmeric Sweet Potato Garden Wraps
We loved these wraps for their sweet potato flavor and their sturdy (but not dry) texture that holds up to any filling.Try hummus and veggies!
19
Gotham Greens Vegan Pesto
Launching nationwide in spring 2020, this pesto from a New York City company packs all the flavor without any dairy.
20
Primal Kitchen Organic Unsweetened Ketchup
Psst … while most brands have four grams of added sugars, no one will be able to tell that this version of the go-to condiment has none.
21
Haven's Kitchen Nutty Lemongrass Sauce
These versatile, flavor-packed pouches make excellent marinades or spreads, and a little goes a long way.
22
Chosen Foods Muhammara Red Pepper Simmer Sauce
Premade cooking sauces tend to be loaded with sodium, but this option has lots of spice without all the salt. Sauté with chicken, tofu, or chickpeas, and dinner is done!
23
Siete Cashew Queso
Keep this dairy-free (vegan!) dip, flavored with nutritional yeast, on hand for game day and watch it disappear. Even the carnivores will be obsessed!
24
88 Acres Seed Butter
Spread the love to everyone with nut allergies. This is made with ground pumpkin seeds, sunflower oil, and sea salt, and a serving adds plenty of protein and iron to a morning smoothie or a sandwich.
Source link